Waxing is a technique using wax to remove unwanted hair from the root. It is not permanent but hair waxed over long periods of time, the regrowth is much slower and the hair is much softer and leaves your skin smoother longer. With other methods of hair removal such as depilatory creams or shaving the hair is removed at the surface and the hair tends to grow back in a rough stubble. Almost any area of the body can be waxed.
Here at Bruce's Cut and Curl we use GiGi Honee made from bee's wax.

All other waxes are compared to GiGi Honee. It is designed for removal of hair for all skin and hair types yet gentle enough for delicate areas. Basically we do eyebrows, upper lip and face. We can also do arms and underarms but because of limited privacy space, we cannot do back, abdomen or bikini waxing.
At Bruce's Cut & Curl there is no need for an appointment but you may make one if you like. It is best to wait 3 to 4 weeks apart for any waxing service but many clients prefer to schedule their waxing services with other hair services so every 4 to 6 weeks is fine. Too often is doing more harm because the hairs may not be long enough for the wax to do its thing and you will be seeing regrowth earlier.
**Mention our web page and get a free eyebrow or upper lip waxing free with any service.
Eyebrow Waxing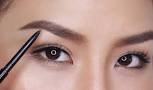 Many of us neglect our eyebrows yet they are one of the easiest things we can do make you look and feel gorgeous. Our eyebrows are the frame to instantly reveal the beauty of your eyes. When my granddaughter was born we kept looking at her trying to figure out what was so different. To our amazement she had really thick and dark eyebrows. The opposite was true after I did chemo – I didn't have any! It is surprising how the difference how well groomed eyebrows can transform our looks. You can trust that at Bruce's to give you those perfect gorgeous eyebrows.
The best brow shape is natural looking and compliments your face. Your right side of your body is not the same as your left side. On a tv program many years ago when they put 2 right sides or 2 left sides of a face together it did not resemble the person at all. Your eyes are not identical so why should your brows be the same? Remember to look at the total look. We want to balance our looks with the shape of our face as we do with choosing a hairstyle. For the most part following what nature gave us is the perfect answer. If you have a square face you want to balance it out with soft angle, a round face a high arch would create a more oval looking face and a long or oval face you would want soft-angled natural arches to avoid looking too long.
What should you expect when coming in for the first time? The area to be waxed is cleansed to remove any facial oils. The brows gently brushed upwards and wax applied below the brow where we want to remove unwanted hairs. A soft cloth pressed on top the wax and pulled off as you would a Band-Aid. Remember all those times as a child crying to Mom to take the Band-Aid off easy and she would say okay as she suddenly pulled it off! It hurt but the pain was immediately gone. The same is done for the other brow and between the brows. A small pair of scissors maybe used if you have any long hairs. Tweezers might be used if there is any stray hairs or if there is one that just wasn't long enough for the wax to hold onto. Then we apply Wax Off with aloe to remove any wax residue and to soothe the skin. The skin may become red after waxing. No worry it usually disappears after about 15 minutes. A customer once read that taking an antacid after waxing reduces the redness so we keep it on hand. Some people say it works others say no difference!
MEN'S EYEBROW WAXING
Men are becoming more aware bushy, wild-looking eyebrow with the dreaded "unibrow" look that is not the least bit flattering and needs to be manscaped. When men's brows get long and bushy we always trim them up with the haircut at no charge. There are times when this just isn't enough! You can relax, we know the proper way to keep you looking manly. So don't get stuck with bad eyebrow, leave your manscaping to us.
Facial and\or Lip or Mustache Waxing
Trust us, we've seen it all before and we make unwanted fuzz on your lip, chin, and sides disappear like magic. This can be done on the same visit as your eyebrows.
Waxing Dos and Don'ts
Because waxing exfoliates the skin making it more sensitive avoid tanning on the same day as waxing.
If you are using medications such as Retin-A, Differin, or Accutane, it is best to talk to your Doctor whether to or not to have waxing services done. Even some over the counter products for skin conditions can make the skin sensitive. Best not to use them the day of waxing.
Don't tweeze for a couple of days before coming in. The hairs you remove will be back before those that were waxed. Don't let temptation get the best of you.
Tweezers may be used in between services for any of those pesky hairs but be careful not to go overboard. Don't use a magnifying mirror. Many mistakes are made using a magnifying mirror. Over-tweezing is the No. 1 between-appointment brow blunder.