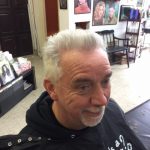 In the last few years men are becoming more aware that fashion isn't just about women. Not only are men wanting to look attractive but want to feel comfortable at the same time. Short haircuts have been the traditional or business look for men. Now they have a wide variety of stylish short haircuts that are attractive and masculine looking yet easy to manage and quick to style. You want a style that will work for you even if it is one of the classic short haircut. We at Bruce's call this just a "plain ole haircut;" off the ears and off the collar. It may be parted on either side, the middle or just brushed straight back.
Clipper Haircuts & Short Haircuts – Burr, High Fades, Low Fades, Flat Tops
Clipper haircuts are very popular for men. A burr is short all over whereas a high and tight or fade is shorter on the sides than the top. How short and how long can be whatever length you like. Whether you want the hair all blended from the different lengths or not is another option. Square off the top and you have a flat top. Short haircuts are always in style!
Pompadour Cuts – Trendy Haircut Style
If you are feeling a little more venturesome try a pompadour cut which is trendy right now. The top is kept quite long and slicked back while the sides are clipped close and disconnected from the top. Especially great for men with round or square shaped faces.

Shag Haircuts – Wavy or Curly Haircut Style
Shag haircuts are popular for longer hair. Especially great for wavy and curly hair. While the popularity of longer men's styles is growing short haircuts will remain the king because of their clean cuts and precise styling. Use a variety of different products from the Mitch or Tea Tree products of Paul Mitchell and you are ready for any occasion from work to a night on the town.
Men's Haircut Gallery