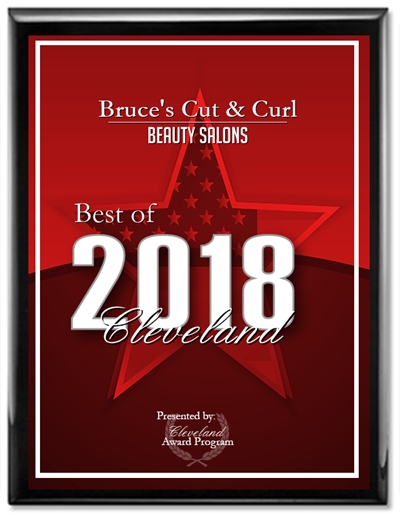 From haircare to manicures and pedicures, Bruce's Cut & Curl offers it all. Take a look at our full range of services below.
Haircuts and Styling
Whether you need just a trim or want to change your style completely we can do it. Men, women and children are all welcomed at Bruce's Cut & Curl. Our stylists offer a full range of haircut and updo options, from simple everyday styles that are easy to wear and maintain to eloquent styles that are the perfect way to look your best for your wedding day, prom or other big occasion.
If you want to cover that grey or change your hair color to blonde, Bruce's Cut & Curl is the place to be. We specialize in all aspects of hair coloring, from grey coverage and blending, bleaching and blonding, and color changes. We also offer hair highlights and lowlights, ombre fashions and anything else you can think of. Stop in today for a free consultation and let our stylists help you decide on the best look for you.
Perms
Curls are coming back! Don't miss out on the latest trend in hair fashion. Whether you want lots of curl and bounce or just a little curl – or even just some additional body and volume to hold your style – give us a call. We can schedule you for a perm appointment to add the perfect look to your hairdo. Don't want any curls? We can straighten your hair, too!
Hair Extensions
Looking for a longer or thicker look for your hair? Hair extensions are a fantastic option. Our staff is experienced in a wide range of approaches and options for hair extensions, including sew in, glue in, I-tips and U-tips. Hair extensions are also a wonderful way to temporarily add splashes of new color and highlighting to your own hair. Stop in today and speak with one of our stylists to learn more.
Nail Care
Looking for a fresh look for your hands and feet? We've got you covered there too. Bruce's Cut & Curl offers our customers full manicure services to make your hands look their best. This includes shaping your nails, soaking, massage and polishing. We also offer both regular polish and gel polish for our customers so you can achieve the perfect look.
We also offer full spa pedicures. Make your feet feel and look refreshed with nail clipping, soaking, callous removal, massage and polish. We also offer a simple soak and clip option – a popular choice with our male customers!
Book an appointment today for any hair or nail care services with Bruce's Cut & Curl by giving us a call at 423-479-1724.
Pricing Guide
| Service | Price |
| --- | --- |
| Dry Cut – Men | $ 12.00 |
| Shampoo and Cut – Men | $ 16.00 |
| Dry Cut – Ladies | $ 15.00 |
| Shampoo Cut and Style – Ladies | $ 23.00 |
| Perms and Body Waves | $ 40.00 |
| Eyebrow Waxing | $ 8.00 |
| Manicures | $ 10.00 |
| Pedicures (Soak and Trim) | $ 10.00 |
| Spa | $ 25.00 |
| Extensions | $ 50.00 / hour |
| Wigs Cut | $ 25.00 |
(All prices are a starting point. Extra may be added for long and thick hair)
*On Wednesdays Seniors get 30% off on haircuts, manicures and pedicures