Everyone needs to get pampered. We often neglect our hands, feet and nails. We use our hands for everything we do from washing dishes to gardening causing us to hide our flaky, dry skin and broken nails. We put our shoes and socks on in the morning and that is it till the end of the day. Then wonder why they hurt. Both men and ladies enjoy a treatment to relax and refresh your tired aching feet and to refresh your hands and nails. Well manicured nails and well groomed hands can do wonders for your self esteem and shows that you care about yourself. Well taken care of feet can make the whole body feel better. Manicure and pedicures are included in our senior day discount on Wednesdays.
Manicure or simple Mani
A manicure is a beauty treatment for the hands and fingernails enjoyed by both men and women that started nearly 5000 years ago. Any old nail polish must be removed first and then shortened if needed. Filing and shaping the nails comes next. To ensure stronger nails the best shape is to choose the natural shape. Some people find that square shaped nails works for them better. Cuticle remover is then applied to gently exfoliate excess cuticle away then placed in finger bowl to soak. While soaking in warm sudsy water these steps are repeated on the other hand.
The most relaxing part is next. We include with our manicures a lotion hand and forearm massage. So lean back and enjoy. Last but not least is the polishing and decorating your nails. Remember this is not only for looks but it also protects your nails. You can choose the natural look of a French Manicure with just some color at the tip of your nail or a solid color. Perhaps you may want to add a decal or a painted design. Unsure of color then maybe just a clear coat for shine and protection.
We will talk about types of polish after the section on pedicures. Also included will be some helpful tips to keep your hands and nails soft and beautiful.
You might think bare nails are ugly, but nails need to breathe and have moisture, and polish acts as a barrier. So skip the nail polish for a few days and enjoy the low-maintenance look. And if you don't want the mess of removing the polish, stop by a couple of days before your manicure or pedicure.
Pedicure or simply Pedi
In Babylonia 4000 years ago noblemen used solid gold implements to give themselves manicures and pedicures. In the Egyptians tombs of pharaohs carvings have been found showing they paid special attention to their feet and legs. They are popular for women but men are realizing that they are not just done to look beautiful but also for therapeutic and medical purposes. Diabetics need to take special care of their feet. To help you relax have a seat in our heated massage chair. First any old nail polish will be removed if needed then placed in warm water to soak. For ou7r foot soak we use salt crystals enriched with Dead Sea Salt, Eucalyptus and Peppermint Oil to remineralize and help detoxify . The oils also can help relax you and soothe sore muscles.
With our Mini Pedicure or as we say here our Soak and Trim focuses mainly on the toes with a quick soak. Trim and shape nails as needed. You're in and out in no time at all. This is a great pick me up between regular pedicures. Many of our men and seniors enjoy this.
Our pedicure and spa pedicure are the same. Not only are your toenails cared for but dead skin cells are rubbed off with a pumice stone or we may use a granular exfoliating cream. So it is better not to shave the day before or day of your pedicure. Sometimes we have developed calluses and corns. They are thickened areas of skin formed by the friction of rubbing on the skin. Your body actually forms them to protect sensitive skin but left not cared for can make them crack and hurt if they get too thick. It can make it painful to walk. Other times we may use a mask because they are dry and need some moisture. Whatever treatment is needed at the time is included. Check with Deb about purchasing foot care products to help take care of your feet at home. Avon's foot care products are affordable and do an excellent job. Now comes the best part of this service, the calve and foot massage. The only thing left is to polish and decorate those beautiful feet.
Nail Polish and Tips
In China fingernail polish can be traced back to 3000BC. Royal fingernails were painted red and black indicating one's social status. For a finished look wear the same shade of polish on toenails and fingernails. If you choose two different colors be sure the shades compliment the other. Nail polish does help to strengthen our nails but don't forget to let them go naked every once in awhile to breathe.
The most common polish is the nail laquer. It takes the longest time of all polishes to dry and chips the easiest. This polish is used to do the swirly designs. We do use a speed dry spray at the end or cuticle oil can be used to keep anything from sticking to it.
Your dream has come true when gel polishes became available. Whether you choose the type that requires a UV light or the new OPI Infinite Shines lasts longer and resist chipping. Both are applied in three steps, base , color and top coat. Each coat of gel polish is cured with the light. It may last u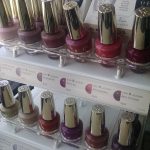 p to 3 to 4 weeks. Infinite Shines drys within seconds of being applied but may only last up to 2 weeks. Gel polished can be very difficult to remove versus the Infinite Shine. Infinite Shines is also available to take home with you.
Use your hand lotion often and be sure to rub some on your cuticles to keep them soft. It helps prevent hangnail. Helps keep hands soft,
Re-apply either color or top coat after a couple of days to freshen up polish.
Ask about being able to take your polish home with you.
At home you can soak your feet while showering and use your pumice stone. Just a few strokes is all you need to do on a regular basis.