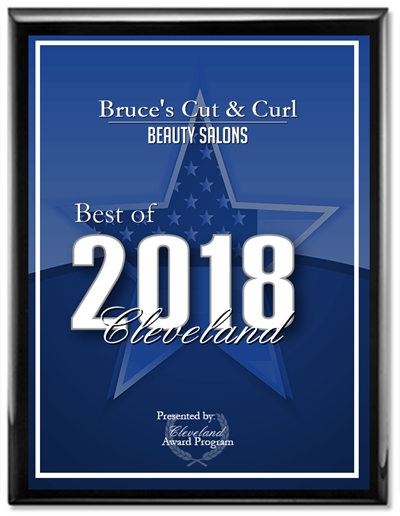 WE ARE PROUD TO ANNOUNCE THAT BRUCE'S CUT & CURL RECEIVED THE 2018 BEST OF CLEVELAND AWARD IN THE BEAUTY SALON CATEGORY BY THE CLEVELAND AWARD PROGRAM!
Debbie is our Pro at hair extensions if this is what you need to complete the style that you are looking for. She keeps many pieces to achieve several different looks, like bright colors, or feathers and simple extensions on hand, but it is easy for her to acquire what ever your needs might be. Debbie also keeps Avon available in the beauty shop and if she doesn't have on hand what you want, she will take your order for you.
But lets not forget that every mother worries about bringing their children with them to a beauty shop because of them not being able to sit still, we cover that problem. We provide a small play room with many toys for boys and girls, so, that the parent can sit back and relax while getting their hair done.
We also know, that parents worry and wonder how old does the child need to be to get their first hair cut, but here at Bruce's, we can give a hair cut at any age. We have done children still being held in their parent's arms, or if they can sit all by themselves. We're capable of just about any needs for children even if there are special needs needed to be met. We do not set prices for children. We try to only charge for the services rendered to that child even if it is a simple bang trim.
Need a hair salon in Cleveland? For friendly hair salon service in Cleveland and Bradley County call (423) 479-1724 today!