The art of hair coloring or dyeing one's hair is transforming the hair from one color to another. Whether it be all or just selected hair strands, it is to make us look and feel better about ourselves. We can create either subtle and natural looks or bold and modern appearances. Paul Mitchell hair color provides results that are rich, reliable, true to tone and resistant to fading.
Keeping with the same color but different shades will give the hair style more movement and stays looking natural. Maybe you want to just have a change for some fun for awhile or cover up that gray hair. So whatever you are looking for it is all about enhancing what we have to become more what we want to be without distracting from your total appearance. No matter what your choice is the result is healthy, conditioned hair with exceptional shine.
With a free consultation we will help you decide on what service would best fulfill your need.
GRAY COVERAGE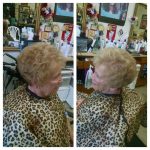 The saying "wash that gray away" can be more difficult than one would think. Paul Mitchell hair color is low ammonia with a beeswax base which provides a healthy natural looking result and covers gray completely. No more looks of, she colors her hair but isn't her a hair a beautiful color!
Don't want to cover all the gray? Demi color is the answer. It is gentle, deposit only and ammonia-free. Every ones thoughts will be that you never seem to age. Another technique would be to use low lights and highlights to cover the gray. Many times we get that effect because we have different shades of gray, white and what natural color you have so it appears that we have added different shades of color.
HIGHLIGHTS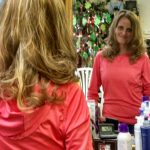 Highlighted hair will make the hair appear fuller and more vibrant while giving dimension to your hairstyle. It is the answer to many who have thin and fine hair . It also works well for people with no more than 50 % gray. Highlights can be done in natural colors or pop colors. It can be done by foils or a frosting cap or simply painting it on the desired strands. There are different methods of creating highlights. Fine strands will give a lighter natural look. Chunking is thicker strands using either bold natural color or Pop fashion colors. You decide if you want more contrast than subtle texture with thinner highlights. Highlights can drastically differ with endless options for brightening up your hair.
LOWLIGHTS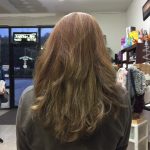 Lowlights is adding color back into the hair that has been over lightened whether it be from the sun or coloring. It will also add depth and dimension to your hair color. It is darker than the color you already have. Many add lowlights in the fall. Darker hair tones are better than light so it won't take away the paler skin tones in the winter.
BLONDES & LIGHTENING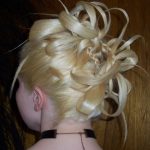 Blonde hair is the most popular hair color wanted by everyone. Whether they want to be the Marilyn Monroe type or just a few strands. With Paul Mitchell® Blonde offers a complete system for blonding with brilliant, healthy-looking results. You can be sure heads will turn when they see your stunning appearance.
Another way to lighten your hair is to have lots of fine highlights done lighter than the natural color. The overall appearance will look lighter.
           

BRUNETTE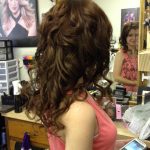 Whether you're thinking of becoming a sexy brunette or just want to freshen up your brown hair hue, has its own beauty and gorgeous versatility. The word brown doesn't do justice to the incredible and beautiful range of brunette shades. The earthy base can be transformed to are unlimited from honey to caramel, chestnut, mahogany. The choices are endless. Do you think blondes have more fun? Check out all the options of being a brunette.
REDHEADS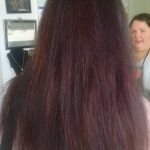 When someone wants red hair they are ready to make a statement. Red isn't just a color it is the most bright and impressive color. With it vivid tones of rustic copper, fiery red, mahogany or strawberry undertones gives us various shades to choose from. You can chose from various techniques from coloring all of it red to just selected strands to create your desired look of sassiness. Adding different shades will create your personal look. While blondes and brunettes are arguing who is more beautiful, redhead are simply enjoying life knowing they are just divine with the most colorful head of hair. So if you are spunky, red is the color for you.
BALAYAGE & OMBRE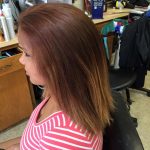 Balayage is a technique of free-form painting on clean, styled hair. The results are subtle, and thus more natural-looking than foiling or chunking. Balayage is meant to be highlight hair where the sun would naturally hit. Usually some darker hair is left on the bottom to keep it looking natural.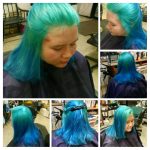 Ombre is very similar to balayage except no dark is left at the bottom, just a nice transition between dark and light hair. It is bolder and more noticeable than balayage. This technique is best on brunettes gradually blending from one color to another. This is a great way to just to color your hair without doing the entire head. This can also help if you are trying to grow out color without having a harsh line of demarcation. Both balayage and ombre can be done on any color of hair.
POP OR FASHION COLORS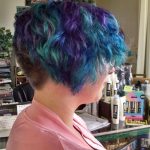 If you dare you can use any of the above techniques using any of the Pop shades or combination thereof.  Add as much or as little as you dare. So, experience the power of paint with 18 intermixable shades from bold colors to soft pastels. The semi-permanent cream color formula features a rich conditioning base for soft, nourished hair.
COLOR CORRECTION
So everyone told you "Oh that is simple enough, you can do it yourself" only to find yourself in a state of panic. The best thing to do is to get professional help and to remain calm. Trying to do more may only make the situation worst and beyond repair. Every different color you have needs to be treated differently. Best advice is to call and set up an appointment for a free consultation and find a solution to your problem.